Unofficial skins for Westeros
Latest skin version information:
Stark skin
Targaryen skin
Download the instruction document for details on how to install the unofficial skins [Word document, 2.08mb].
Please note that in order to use the skins you will need to be using either Firefox with the Stylish add-on or Google Chrome with the Stylish extension.
Option: Hide Avatars
Option: Remove BG and Logos
Option: News Right
Westeros is the biggest and best web forum dedicated to George R.R. Martin's A Song of Ice and Fire on the Internet, and more than that it has become the home of intelligent and lively debate on all subjects and has an open speech policy on almost any subject which makes it a free and enlightened place to chat with like minded people. This has created a strong community and a welcoming atmosphere that you just won't find on other moderated forums. If you had not guessed it is just about my favourite place on the Internet and for me it is part of my daily life.
In November 2009 a new version of the forum was launched which the forum admins, Ran and Linda, had worked hard on for many long months. However, this new version did not include an option to use alternative skins to change the appearance of the site. A lot of people had become very attached to their particular skin of choice and many were not happy about the decision to not include skins in the new version. The admins are perfectly within their rights to not include support for skins anymore. It is their site and they have future plans which would have been slowed down and complicated by the need to think about how to display everything with alternative colour schemes and honestly when you see the scope of all the sites they are now running including A Wiki of Ice and Fire, The Citadel, All sorts of weird stuff and Blood of Dragons I think you have to agree that they are doing an incredible job bringing all this content to us fans.
But thankfully if you find the default skin of Westeros too colourful and distracting there is something you can do about it. Almost all web browsers will let you load a personal stylesheet to apply to any webpage so you can display the page the way you want to see it. This is applied only to your PC so only you would see it. Unfortunately in most browsers you would need to load the stylesheet each time you visit a new page which makes the feature not so useful. But for anyone who is using the Firefox web browser there is an add-on called Stylish which applies a stylesheet to a specific website permanently.
I mostly browse Westeros from work and I had previously been using the Stark skin which had a plain white background and soft shades of grey for highlights. This made it less noticeable to anyone passing my desk that I was on the Internet rather than doing work, hey come on we all do a little sneaky browsing at work, right? It helps us get through the day (just don't tell my boss). So for my own personal use I created a CSS stylesheet to make the site look Stark again. The Stylish add-on for Firefox also lets users create and share their personal stylesheets with other people (like you) and so I created an account on userstyles.org to do just that.
Some prefer to use a black background with white text because it is easier on the eyes and so I adapted what I had done for the Stark skin to create a Targaryen skin. See the screenshots below for comparisons between the default style and my unofficial Stark and Targaryen skins.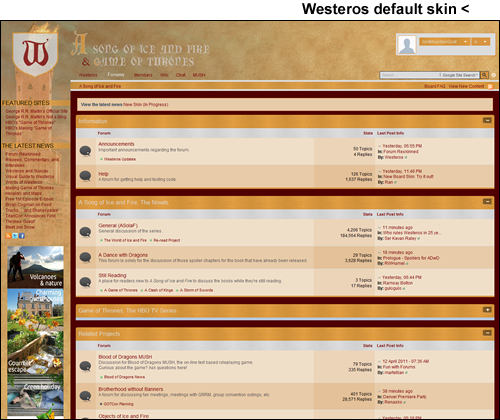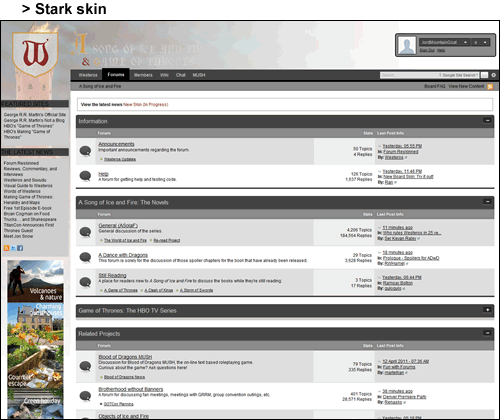 Both skins are now available on userstyles.org for your own personal use, see the download instructions and version details at the top of this page. When I make updates to the skins I will update this box with the latest version details so please remember to name your skin in Stylish with the version number so you know if and when you need to upgrade.
Please note that these skins are "unofficial" and are for "your own personal use" which means that if the Westeros forum admins change something across the entire website and this causes a display problem because of the skin then under no circumstance should you blame Ran for this and give him hassle about it. In fact please don't give me hassle about it either. But if you do notice anything which is not displaying properly, or if you have a suggestion for a change to improve either of the skins, then please feel free to contact me and I will see what I can do to help.